The Trusted .Law Domain For Legal Professionals
Verified
Exclusive
Reserved
Expert solutions to manage your legal practice in the digital age.
Why register a .law extension?
If you consider the number of domains registered in the overpopulated and unregulated .com namespace, it is not surprising that the legal industry favors a more dignified and secure website alternative.
The .law domain offers a place on the Internet dedicated to accredited lawyers and law firms worldwide. Join.Law is the comprehensive legal service provider. We make it simple to consolidate your domains and services in one easily-accessible and secure platform.
Register a .law domain
Benefits
Verified online space to promote your law practice
Exclusive to the professional legal community
Reserved for lawyers and legal institutions
Register .com, .lawyer, .legal, .abogado, .attorney & more.
How have others used .law TLD?
Not only are .law domains verified, exclusive, and reserved, but they are also highly brandable. .law presents an opportunity to strengthen and differentiate your brand with a descriptive and memorable domain name.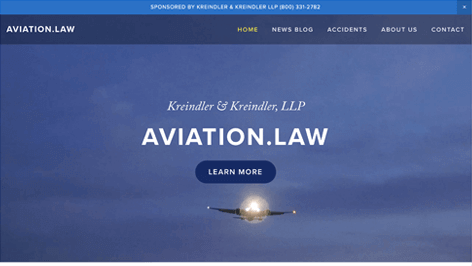 www.aviation.law
Own your practice area. Not only are .law domains verified, exclusive, and reserved, but they are also highly brandable. You can use your .law domain to communicate the focus of your legal practice and differentiate your brand from the competition.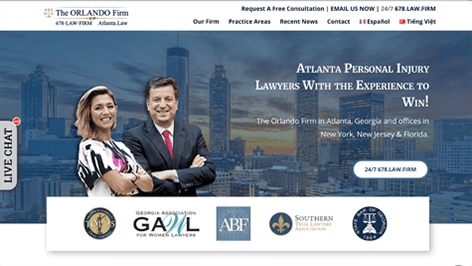 www.atlanta.law
Target a specific market. The .law domain presents an opportunity to strengthen your online marketing with a descriptive and memorable domain name. Promote your legal practice with a domain name that speaks to the local area you serve.
Comprehensive solutions to run your practice online.
Powerful Hosting
Secure, fast, and reliable hosting powering your law firm website you own and control.
Dedicated Support
Our team is experienced in the unique needs of the legal industry, and can assist you in chat, email, over the phone, and anywhere else you need it.
Turn-key Security Solutions
Advanced SSL and security features prevent your law firm website and client data from being held hostage.
Email and Collaboration
Professional email at [email protected] and access to secure Google Workspace applications: Drive, Docs, Calendar, Meet and more.
Attorney-friendly Platform
Consolidate all of the services you need to secure your digital assets in a single platform.
Download our guide
The exclusive Join.Law guide takes you on a journey to examine the long history of centralization in the legal business world, and how consolidating your digital assets is essential for your online success.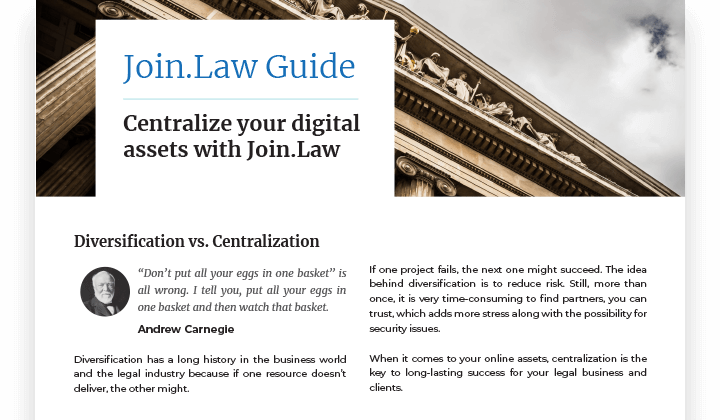 Protect your brand, and your client's brand.
Brand Protection
Like you, we help people and brands protect their rights. Our online brand protection services are designed specifically for lawyers. We know your name is your most important asset. We won't let anyone take your name, or your client's.
Join.Law News
In today's online-driven world, staying on top of the latest news to protect your digital assets has never been more important.