Get the .Law Guide
Lawyers Are Using Domain Portfolio Consolidation to Maximize Success Online.
Download our guide to learn how to establish, grow, and protect your digital legal assets.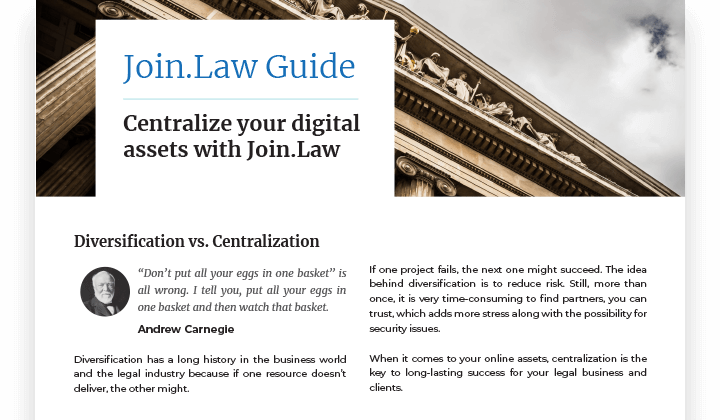 'Don't put all your eggs in one basket' is all wrong. I tell you, put all your eggs in one basket and then watch that basket." Andrew Carnegie
Diversification has a long history in the business world as well as in the legal industry because if one resource doesn't deliver, the other one might. If one project fails, the next one might succeed.
The idea behind diversification is to reduce risk. Still, more than once, it is very time-consuming to find partners, you can trust, which adds more stress along with the possibility for security issues.
When it comes to your online assets, centralization is the key to long-lasting success for your legal business as well as your clients.
Our guide will not just discuss why finding an established partner that you can trust with your digital footprint is—without a doubt—priceless, but also how the exclusive Join.Law Brand Suite can maximize your success online.
Fill out the form & get the guide
We will not share or sell any of your information for any reason.